Why commend this article to you? Simple really – we're humanly much more disposed to say nothing, "peace at all costs" rather than discerningly and shrewdly, and socially handling well, the confrontation issue, the "push back" on things that are not true, or inaccurate, and it seems, because Christians are supposed to always be "nice" (aka not causing any ripples) and let's be honest, we're vulnerable and insecure and being accepted and approved is more important than truth and even how people perceive Jesus and God… It's easier to say nothing… In fact, I find people more likely to fight as in stand up, for politics than Jesus in western first world nations… we find it absolutely imperative that the world likes us… Actually, they disrespect us – I ask all the time, because we're seen as weak kneed and not knowing or standing for anything.

Yes, yes, yes… I know there are the wounded ones who fight over anything and everything… that's not what I'm talking about… have a read of this article… I think it'll give a contribution to our refection on how we engage the world.



Peace vs Christ
October 3, 2018 by T.R. Allen
Sounding the Charge
In my class on Culture War Christianity I start the first day by challenging my students with the statement that most of them are probably in direct disobedience to Christ by allowing themselves to be silenced for the sake of peace. We do this with family, we do it with friends, we do it on social media, we do it everywhere. Convinced it is enough that we know the truth, we are willing to lay down our swords of truth in order to keep the peace. This attitude runs contrary to every jot and tittle of the New Testament and Christ's teachings.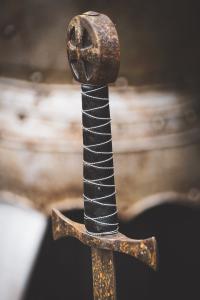 "Do not think that I have come to bring peace to the earth. I have not come to bring peace, but a sword. 35For I have come to set a man against his father, and a daughter against her mother, and a daughter-in-law against her mother-in-law. 36And a person's enemies will be those of his own household. 37Whoever loves father or mother more than me is not worthy of me, and whoever loves son or daughter more than me is not worthy of me." ~Matthew 10:34-37
Ask yourself now: do I have any enemies in the world because of my Christian faith? Do I know anyone who has sneered at me personally for proclaiming God's truth? "Remember the word that I said to you: 'A servant is not greater than his master.' If they persecuted me, they will also persecute you." ~John 15:20
How much persecution have you suffered?
"I have come to set a man against his father, and a daughter against her mother," but do you, oh Christian, feel it's better to hold your tongue at the Thanksgiving table so as not to offend?
"Blessed are you when others revile you and persecute you and utter all kinds of evil against you falsely on my account. Rejoice and be glad, for your reward is great in heaven, for so they persecuted the prophets who were before you." ~Matthew 5:11-12
You are blessed…you are rewarded of Godwhen you are attacked by others for the sake of Christ and the Gospel. Would you trade a little "peace on Earth" for that reward? What of this "sword" Christ says He came to bring? Well…
"and take the helmet of salvation, and the sword of the Spirit, which is the word of God," ~Ephesians 6:17
It doesn't get much plainer than this. The Christian army is considered an "army" for a reason. The New Testament is rife with the language of warfare – spiritual warfare – and the only real weapons you have are the words of your mouth. If you hold your tongue regarding the Gospel and truth, you are every bit the soldier who has laid down his weapons and surrendered the field so that the enemy would be nice to him. You are choosing the praise and rewards of this world rather than the praise and rewards of your Father in Heaven.
Remembering Who the Real Enemy Is
None of this is to suggest that Christians are to be rudely antagonistic or – heaven forbid – demanding with their beliefs. Paul said in I Corinthians 13:1 "If I speak in the tongues of men and of angels, but have not love, I am a noisy gong or a clanging cymbal."
Speak the truth in love – but speak the truth. Do not let this world or fear of people thinking bad things about you cause you to hold your tongue. Doing so is sin. When the world comes looking for Christians to persecute you should be first in line! They should have no trouble tracking you down. "HERE AM I!" There is a delicate line to be walked between rude and brash arrogance that offends for no reason at all, and the choice I see many around me making to subtly hide their light and opinions so as not to be marked by this world. You need to check yourself if you're running a pseudonym for a blog or a resume to hide your Christian beliefs. You need to think twice if you can regularly go anywhere and "blend in" with people not knowing your faith.
In the practical sense I am not telling Christians they need to go to their secular workplaces with their Bibles and preach sermons at the water cooler. You are paid to be there on private property doing and saying the things your employer wants you to do or say. If you can't abide by that, you should leave.
I am saying that in your family, and circle of friends, in your social media and on your own time, you should be clearly, loudly, unapologetically Christian. You should confront the lies of this world with boldness, not being shy and demure as a blushing bride on her wedding night. Let people walk away from you as they walked away from Christ when they couldn't handle the truth. Let them unfriend you. Let them call you all sorts of names and revile you. Let your Father in Heaven stand and applaud you there, alone like Stephen, suffering for daring to speak the truth. Seek first the kingdom of God.
If you aren't suffering any fiery darts of the enemy, you are doing something wrong. Christ attracted them, and you are not greater than He.