St Christopher's is a joyful faith community of
hope and authenticity.
There is always room at the table for you.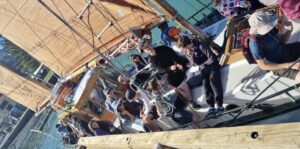 What's important?  Who are we?  What will we do to live authentic to our hearts, our convictions?  What matters?
Yes, we are in an era where change is moving at an unsustainable pace, where everything is questioned; where we're more connected than ever, but never more lonely and authentic unconditional love is scarce; where we confess a spiritual thirst, but are unsure about God and what it implies for our lives.  Ours is a church  where skeptics and saints, sinners and the sarcastic, the well to do and the hungry, where those with clear belonging and those wandering are all accepted and belong.
As for us, we're not perfect. We have scars and shortcomings. Yet, we are a people, a place of hope, a future, and transformation from a life as sold to us in the media to one that is unconditional, gritty and honest, a journey shared together, with an unshakable purpose and reason to get out of bed in the morning. Come, explore, question, wrestle, grow in a trusted environment where you'll be accepted, can unwrap it all and just be. Come gain the confidence to be vulnerable and celebrated right where you are, and invited to go places you've never dreamt.
As for you, you may have great faith, or wonder if there is a God at all, or you're very wary from some experience you don't have words for.  You may be trying to keep it together, or simply sense God is wooing you, calling you, a longing for connecting to the deep yearning within.  It doesn't matter – at all.  You're welcome here.  We'll be a safe place to unpack it, wrestle it, taste and see and we will walk with you through it.  You may be ready to jump in, or just watch.  You are welcome here.  There is always room at the table for you.  No matter who you are.
Our Gathered Community Schedule
For I am sure that neither death nor life, nor angels nor rulers, nor things present nor things to come, nor powers, nor height nor depth, nor anything else in all creation, will be able to separate us from the love of God in Christ Jesus our Lord.

Romans 8.39-39